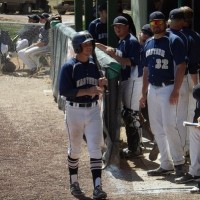 The USU-Eastern Golden Eagles baseball team will look to rebound from a difficult start to the new season as they play host to Colorado Mesa University's club team with back-to-back double headers Feb. 26 and 27.
After losing 11 of the first 12 games to start the new season, the team will take the remainder of this week off. So far this year the Golden Eagles have played all 12 of their games away from home, The one win came against Eastern Arizona, 5-3, on Feb. 11.
Following the upcoming set with Colorado Mesa, the Golden Eagles will play host to Salt Lake Community College on March 2 as Scenic West Athletic Conference play begins.
While the team has struggled to hit just .177 during first 12 games, freshman Nathan Hedberg has accumulated nine hits in nine games to lead the team. Hitting a team best .391 amongst qualifying batters, Hedberg has accumulated two doubles, three RBI and one home run.
Freshman Kirk Haney recorded the team's lone win on the mound during a complete game outing against Eastern Arizona. In the win, Haney surrendered only four hits and three earned runs, while striking out five batters. The team's current accumulative ERA sits at 10.96, ranked 176th in the NJCAA.
The conference opening four game set with Salt Lake Community College will be played in two separate sets. Wednesday, March 2, the Golden Eagles will play host to a double-header. Two days later the teams will meet again in Salt Lake for another two game set.
Below is the schedule of the next 10 games for USU-Eastern:

| | | |
| --- | --- | --- |
| Date | Opponent | Time |
| 2-26-16 | VS Colorado Mesa State | 1:00 PM |
| 2-26-16 | VS Colorado Mesa State | 3:00 PM |
| 2-27-16 | VS Colorado Mesa State | 12:00 PM |
| 2-27-16 | VS Colorado Mesa State | 2:00 PM |
| 3-2-16 | VS Salt Lake Community College* | 12:00 PM |
| 3-2-16 | VS Salt Lake Community College* | 2:30 PM |
| 3-4-16 | @ Salt Lake Community College* | 12:00 PM |
| 3-4-16 | @ Salt Lake Community College* | 2:30 PM |
| 3-11-16 | VS Southern Nevada | 12:00 PM |
| 3-11-16 | VS Southern Nevada | 2:30 PM |