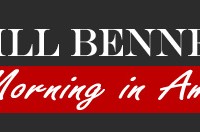 4am-7am
Bill Bennets Morning in America addresses current affairs and issues and today's public policy. Show host Bill Bennett is one of America's most important, influential and respected voices on cultural, political and educational issues. He served as President Reagan's chairman of the National Endowment for the Humanities and Secretary of Education.. He also served as Presidents Bush's "drug czar".
Mr. Bennett has written for for Americas's leading newspapers and magazines and appeared on the nation's most influential television shows. He has also written and edited 16 books, tow of which- The Book of Virtues and The Children's Book of Virtues- rank amonth the most successful of hte past decade.
Although he is a well-known Repbulican, Mr. Bennett often has crossed party lines in order to pursue important common purposes. He has worked closely with Democratic leaders to fight the decline of popular culture and to end worldwide religious persecution , and he is the co-chairman of the Partnership for a Drug-Free America.