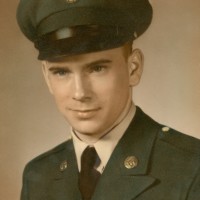 On February 7, 2017 William P. Bragg went to be with his friend and Savior Jesus Christ whom he knew forgave his faults and died for him. He loved his country, his family and life itself and strived to find the good in each day. He especially loved his grandchildren and was looking forward to meeting his newest great granddaughter, Maci, who is expected to arrive in May. Grandpa, Paw Paw, you are dearly loved and will be greatly missed.
He was born in Pineville, West Virginia on June 25, 1941 to William Q. and Julia Ann Bragg. He was a proud twenty year veteran of the United States Army. He unselfishly served in Vietnam and eventually retired honorably in 1979. In 1986 he received his Associate in Business Administration from Beckley College. In 1989 he went on to receive his Bachelor of Science as a Business Management Major from West Virginia Institute of Technology.
He is preceded in death by his father William Q. Bragg; brothers Steven Bragg and Dale T. Bragg; wife, Virginia Mary Bragg (Elliott) whom he considered his best friend.
He is survived by his mother, Julia Ann Bragg (Nutter); siblings, John M. Bragg (Earline), Margaret L. Ellison (Ernie), Joseph A. Bragg (Beverly), Rebecca D. Stotler (Kelly); first wife, Lucille Bragg (LeMasters); children, Natalie A. Mendenhall (Tom), Julia M. Foote (Craig), William R. Bragg (Lisa); stepdaughter, Dawn V. Ellison (Kary); grandchildren,  Mitzi M. Clapp (Aaron), Elizabeth A. Pfenning (Billy), Dustin A. Foote, Justin S. Hatfield (Lindsey), Jared R. Souder (Kristin), Mariah N. Bragg, Makinzie R. Bonifacio (Aaron), Halee M. Kalinoski, Gus A. Ellison, Eli J. Ellison, Alexandra B. Ellison; great grandchildren, Amos E. Pfenning, Nahum T. Pfenning, Sofia M. Pfenning, Savanah L. Pfenning, Halie N. Hatfield, Madison P. Hatfield, J. Chad Hatfield, Anderson S. Hatfield, Maci L. Bonifacio due to arrive in May, Zoe E. Dunn, Trace L. Rosiek.
The family would like to thank CNS and the VFW of Price, Utah for making dad's final months as comfortable as possible and honoring him for his military service. We greatly appreciate Mitchell Funeral Home in Price, Utah for making all the arrangements necessary for returning dad to West Virginia.
Funeral service will be held at the Ansted Baptist Church, Ansted, West Virginia on Thursday, February, 16, 2017 at 12:00 Noon with visitation beginning one hour prior. Interment Restlawn Memory Gardens Victor, West Virginia.  Local Arrangements entrusted to Mitchell Funeral Home where friends are welcome to share memories of William at www.mitchellfuneralhome.net.