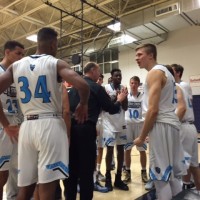 Five players reached double-figures as the USU-Eastern Eagles scored their second victory over the Salt Lake Community College Bruins this season in a 98-82 win Tuesday night in Price.
Cam Bailey poured in 19 points, collected 12 rebounds and handed out three assists in the wire-to-wire conference win. Roman McNight also recorded a double-double with 20 points and 10 rebounds to go along with three blocks.
"I'm so proud of our guys, because they executed the game plan beautifully," said head coach Adjalma Becheli. "We had some ups and downs during the game, but we kept our mind's sound and kept attacking."
The Eagles fired on all cylinders throughout the game as they finished 55-percent from the field, and 50-percent from the three-point line. Controlling the pace of the game throughout the Eagles earned their fourth win in five games to improve to 5-8 in Scenic West Athletic Conference action.
Cooper Holt paced the Bruins offensively with 15 points off of the bench in the team's second straight loss to USU-Eastern. Matt Conway finished with 14, and Dalven Brushier scored 12. Isaiah White, the team's leading scorer, was held under his season average by the Eagles for the fourth time this season.
Holding just a six point advantage at the end of the first half, the Eagles opened a 19-point lead with only 13:53 play to play. Despite a mini run by the Bruins late, the lead was never in danger as USU-Eastern strolled to another victory.
Despite multiple key injuries that have sidelined Alex Morrell, Andy Isokpehi, and Milan Surlic', the current seven man rotation continues to find ways to win. "This team is playing so good together, and they enjoy playing with each other," Becheli said when asked about the current active roster. "They believe in themselves, and found their way in our system."
With three games remaining in conference play the Eagles will look to finish out the home portion of the schedule when they play host to Colorado Northwestern on Thursday. Holding a 2-1 lead in the season series, the Eagles recently earned a double-digit win over Colorado on the road back on Feb. 4.
Tip-off for Thursday's contest is scheduled to begin 20 minutes after the women's contest, which begins at 5:30.