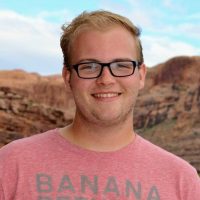 After battling his injuries from a severe car accident, Mykel Riddle went home to his Heavenly Father on July 31, 2017.Mykel is the son of Paul and Bernadette Riddle (Tweed), brother to Lucas, Otto and Samantha Riddle. Grandson to Don and Judi Riddle (Emery, UT) and Ernest and Daria Tweed (San Diego, CA).
Mykel was born in San Diego, CA, January 4, 1998. When he was 6 years old, his family moved to Orangeville, UT, where he had many adventures. Mykel graduated from Emery High School in 2016. His family moved to Price in 2016. Mykel was and is a wonderful man and an amazing human being! He had a heart of gold! He had such a kind soul. He saw the good in everybody, it didn't matter who you were. He tried to help everyone. When someone was down, he reached out and made them smile! He always knew what to say to make someone smile and laugh. He was a friend to all! Mykel was a goofball, comedian, friend, councilor, confidante, chauffeur and on call for whatever help was needed … no matter what time it was! He was a good son. He was beloved by his family, especially his siblings. They were always so happy when Mykel would spend time with them. He loved to hang out with his friends, and be
silly. He loved animals, especially his dog Biff. Nothing made him happier than spending time with the love of his life, Daisy Lopez. Mykel loved being in band, and playing the French horn. He was a natural when it came to music. He was born with a natural beat and rhythm. He loved to cook and to dance. Mykel was loved by so many and touched so many lives! Even though you are not with us on this earth, you are with us in our hearts and souls! Our memories of you will keep you alive. You will be forever loved and missed!
Funeral services will be held on Friday, August 4th, 2017 at 12:00 at the Orangeville
LDS Chapel, 45 W. 100 S. Orangeville, UT 84537. Viewing will be held at 10:00 am at the Orangeville LDS Chapel. Interment will be at the Orangeville Cemetery. Services are in the care of Heritage Funeral Home. Friends and family may sign the guest book and share memories of Mykel at www.heritagefuneralhomeutah.com.