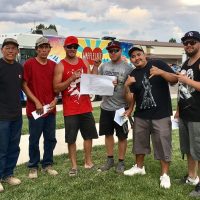 The Emery County Fair Horseshoes Tournament brought in 17 teams, including five from out of the area, to battle in a double-elimination competition that lasted nearly five hours.
The team of Chad and Cody Allen claimed first place as the team moved through the winners bracket unscathed. Though the team dominated the early portion of the tournament, the were sent to the brink of elimination after suffering a loss in the first championship contest.
Tommy Elkface and Rhett Popejoy finished in second, losing the decisive game to the champions. Jerome and Alford Stash, both from San Juan County, rounded out the top three.
Each participant received multiple items that were provided by the Emery County Fair organizers. The event brought in several new faces, and provided heavy competition for those in attendance.
The next horseshoes tournament will run in conjunction with the Carbon County Fair on August 26 at the Carbon County Fairgrounds. Registration will take place at 10:00 a.m., and the double-elimination tournament will start at 11:00. The cost to play is $20 per team.