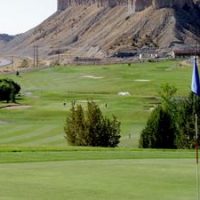 The Carbon Dinos have opened up a 32-stroke lead in Region 14 play after a dominating round of golf Tuesday at Fox Hollow, the home course of Maeser Prep, Tuesday afternoon in American Fork.
Led by senior Ryker Smith, the Dinos finished with a final score of 314, 32 strokes better than second place Providence Hall. Union finished in third with a score of 350, followed by Delta's 357, and Juab's 379. American Leadership Academy and Maeser Prep rounded out the field with scores in the 400's.
Smith posted the low individual round of the day with a 71. Ryan Gagon complimented Smith with a 76. Carson Martines ended with an 81, and Brady Gagon recorded the team's fourth score with an 86. Zade Carrillo and Nick Olson rounded out the final two scores, which were not counted towards the final score.
Tuesday's win gives Carbon a hefty advantage in what will be a long region season. Each of the seven schools will host one region meet over the next six weeks. Up next the Dinos will travel to Roosevelt, the home course of the Union Cougars, on Wednesday, August 16.
Below are the current region standings following the first meet of the season:
Carbon- 314
Providence Hall- 346
Union- 350
Delta- 357
Juab- 379
ALA- 402
Maeser Prep- 456