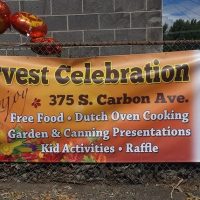 The Southeastern Utah Association of Local Governments would like to invite families in the community to come out for their Third Annual Harvest Celebration. The event will take place on Saturday, September 30 from 12:00 pm to 2:30 pm at 375 South Carbon Avenue.
"It's kind of a kick-off when the garden starts to, you know, it's final productions and we're just excited to do that," said Community Services Program Manager, Julie Rosier (ROW-ZHUR). "It's free, so you can come and bring your families. We'll have an awesome lunch provided – desserts, potatoes. There will be pumpkin decorating for the kids, we'll have a fish pond and face painting." The event celebrates this year's success of the garden, plus it's a wonderful way for community members to see the hard work that volunteers have accomplished.
The Community Garden is a partnership with Price City, as well as, the Carbon County Food Bank. It was first started because there was a need for fresh fruit and vegetables for low-income clients that sought assistance through the food bank. Price City plays a huge part in the bountiful crop each year by providing the land, water and often at times volunteering to work in the garden. The crop provides approximately 10,000 pounds of fresh produce that benefits not only the local food bank, but Emery and Grand Counties too.
The organizers hope that this event will bring the community together to learn about health and nutrition through the various activities scheduled. "This year we are very excited, because we would like to announce that the Museum of Natural History in Salt Lake will be coming, they'll have a booth. They'll talk about pollinators with kids, what brings in pollinators, they'll have prizes and gifts. That's a pretty big deal for us," stated Rosier. Also in attendance, will be Jack Clark and his team who will be cooking delicious Dutch oven potatoes and desserts to share guests. Other sponsors include IFA, Sutherlands, Swire Coca Cola and employees of the Southeastern Utah Association of Local Governments.
Volunteers and donations at the local food bank are always welcomed and needed. This year's numbers have showed low volunteerism and donations, however the need for assistance continues to rapidly growing. The shelves are a bit bare during the summer months and with the holidays quickly approaching the food bank would like to get a head start on replenishing the shelves. Any non-perishable food items and/or monetary donations are always accepted and greatly appreciated. If individuals would rather volunteer their time to help in the garden or inside the food bank by assisting with cleaning and/or restocking shelves can contact Food Bank Coordinator, Aubrey Jaramillo at (435) 613-0020.
To learn more about Southeastern Utah Association of Local Governments programs visit their website at http://seualg.utah.gov/