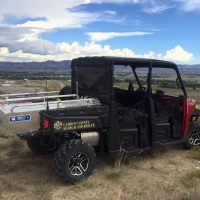 The Search and Rescue Team put all their knowledge from training and skills to work this past weekend by assisting a young man who was hurt on the mountain.
"A young man rolled over on his horse in First Water Canyon, pretty steep rugged terrain," said Carbon County Sheriff Jeff Wood. "Our Search and Rescue Team was able to get to him and make him comfortable. In fact, they spent the night with him until we could get a helicopter in to hoist him out." The young man suffered no broken bones, just injuries to his knee and hip.
Members of the Search and Rescue Team are on-call and must be ready to leave at a moment's notice. "Just an amazing group of guys, are Search and Rescue and they are all volunteer. They drop everything and leave and they're so excited to do it. I just love their enthusiasm and the dedication they have to their community," stated Wood. Just a reminder to anyone headed to the high country, be sure to always share your route/destination with family and friends, take plenty of water and food, means to build a fire and know areas where you have cell phone service.
Community members should thank the members of the Search and Rescue Team for a job well done. To learn more about the team visit their Facebook Page.