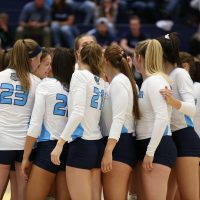 USU Eastern Press Release:
PRICE, UTAH – Utah State Eastern volleyball lost two conference games against top ten teams at home on Friday and Saturday.
On Friday night the Eagles lost to No. 9 Salt Lake Community College 3-1.
SLCC opened the match with a dominating 25-12 first set. It was the second game in a row where the Eagles lost the first set by more than double digits.
Utah State Eastern Head Coach Danielle Jensen said that the reason for the slow start in the last few games was because of her team's mentality.
"It was just a mentality thing in the game and knowing we can compete with this team and we came out timid," said Jensen.
The Eagles would gain back some momentum against SLCC but lost the set 25-19.
In the third set the Eagles battled back and avoided the sweep by defeating the Bruins 27-25 in an intense set.
The Eagles would take the game to the wire and  fell short in the fourth set losing 25-20.
Against SLCC, sophomore Sidney Springer led the team with 16 kills. She also finished the game with 16 digs and one assist.
Agatha Roese-Oslen had 39 assists, 2 kills and 4 digs against Salt Lake.
On Saturday afternoon the Eagles hosted No. 4 College of Southern Idaho to finish the weekend.
Jensen's team overcame a large nine point deficit and pushed CSI in the first set. The Eagles lost the first set 25-23.
CSI would take the second set 25-18 and the third set 25-23 to sweep the Eagles.
After the match Jensen said it was the heart and drive her team played with that kept the sets close.
"Playing two very good teams back to back day is hard but their heart and drive is what keeps them going to not just roll over and let the other team win," said Jensen.
Sophomore Jaelyn Olsen and Springer each had 9 kills and 10.5 points against CSI.
Freshman Megan Gurr led the Eagles on defense with 8 digs.
With the losses against CSI and SLCC, the Eagles now have a 15-6 overall record and a 2-3 conference record.
The Eagles will now have a whole week of practices before heading to Rangely, Colorado to take on Colorado Northwest on Saturday.
Jensen said that she knows her team can compete with any team in the conference and that this week her team will focus on making defensive adjustments to prepare for CNCC.
"We have to be quicker and make adjustments with our defense in preparation for next weekend," said Jensen.
The next home game will October 20 against Snow College at 7 p.m. at the BDAC.
Fans can follow the Eagles on Facebook at Utah State Eastern Athletics and on Twitter at twitter.com/usueathletics.