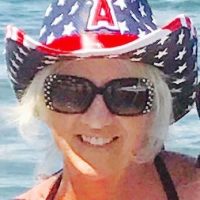 Brenda Kay (Hansen) Layton, Our loving wife, mother, grandmother, and friend passed away Monday, October 9, 2017 peacefully at her home in Emery after a long battle with cancer.
Brenda was born April 3, 1962 in Price, UT to Vietta Loy Hansen and Nels Gary Hansen.
Brenda moved with her family to Salt Lake City, UT at 3 years old and lived there until she was 16 years old.
At 16, she married her high school sweetheart, Dana Layton and moved to Lake Havasu, AZ for a short while, returning to Price, UT where they had their first born son, Casey Layton in 1979. In 1985 their second son, Bradley Layton was born. Eventually in 1986 they relocated to Southern California and finally in 1989 got their baby girl, Katey Layton.
Together Brenda and Dana started and ran a very successful excavation business in Southern California for 28 years and then returned to Emery in 2016.
Brenda loved all people and making friends everywhere she went. She never met a stranger. She always accepted people just as they were with open arms and lots of love. She loved painting, camping, spending time with friends and family at the river, dancing, and country music, especially Luke Bryan.
Brenda is preceded in death by her mother, Vietta Loy (Bawden) Hansen; grandfather, Herbert Bawden; grandmother, Ora (Christiansen) Bawden; grandfather, Nels Hansen; grandmother, Maggie (Beal) Hansen; sister-in-law, Julie Hansen.
Brenda is survived by her husband, Dana Layton; father, Gary Hansen; children, Casey Layton, Bradley Layton, and Katey Layton; brothers, Robert (Kim) Hansen, Richard (Julie) Hansen, Kris (Jolynn) Hansen; grandson, Seth Layton; numerous nieces and nephews.
Funeral service, Saturday, October 14, 2017, 12:00 p.m., Desert Edge Christian Church in Huntington, Utah. Family will receive friends Saturday morning beginning at 10:00 a.m. at the Church. Interment will follow in the Emery Town Cemetery. Arrangements entrusted to Mitchell Funeral Home of Price where friends are welcome daily and may share memories of Brenda online at www.mitchellfuneralhome.net.