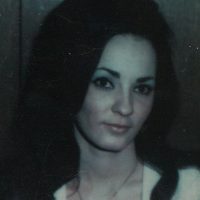 On Monday, the 9th of October 2017 our dear Mother passed from this world while holding the hands of her loving husband Craig Williams Funk in their Ferron home.  Myrlena Idell Yates Funk was born February 25th, 1948 in Price, Utah to Wyllie Loyde and Carol Jean Yates.
She spent most of her childhood in Monterey, California.  She also lived in Dragerton (now East Carbon), Utah and also spent a lot time at her loving grandmothers home in Ferron, Utah.  She met the love of her life Craig in 1970 in Ferron, Utah where they married two weeks later in the same home that they lived in 47 years later.  They spent their married life living and working on State Parks throughout Utah. She also enjoyed working on movie sets while living in Rockport, Utah.   She loved to hunt and fish together with her family and spend time outdoors.  She loved to take care of others and she would put her whole heart into it.
Myrlena is survived by her husband Craig Williams Funk, son, Daniel Funk, daughter Gina Funk (Wade) Farnsworth, step son Kim (Stephanie) Funk, and step daughter Diane (Bob) Bell and seventeen grandchildren, Sister Kathy Walker, brothers Loyde Dale Yates and Rocky Yates Sr.  Preceded in death by her parents Wyllie Loyde and Carol Jean Yates, sister Rita Loving, and nephew Keith Walker.  She will be forever in our hearts.
A viewing will be held on Friday, October 13, 2017 from 6:00 – 8:00 p.m. at Fausett Mortuary in Castle Dale. Funeral services will be held Saturday, October 14, 2017 at 1:00 p.m. at the Ferron Millsite Ward building (35 West 200 North) with a viewing from 12:00 – 12:45 p.m. prior to services entrusted to Fausett Mortuary of Emery County. Family and friends may sign the online guestbook and share a memory of Myrlena at www.fausettmortuary.com