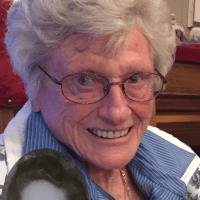 Utahna Tess Allred Wilson, born March 24, 1927 in Cleveland, Utah in a cabin to James Franklin & Isabella Knight Allred. Utahna passed away October 10, 2017 at Pinnacle Care and Rehabilitation Center in Price with grandkids Ty & Bobbi Lynn by her side.
Utahna lived in a sheep camp on "The Park" off 9-Mile canyon living in a tent during her early childhood. At her school age the family moved to Cleveland where she was raised. She was the youngest of 7 children, Utahna had 5 brothers & 1 sister.
She met her partner in life, Willis K in their early teens and he often rode his horse to Cleveland during their courtship. They married December 1, 1943 in Cleveland; their marriage was solemnized in the Manti Temple on June 18, 1966. They celebrated their 70th anniversary just prior to his passing on February 9, 2014.
Utahna worked hard on the family farm in Buffalo. She enjoyed reading along with every Ensign magazine from the back cover to the front cover. Utahna was a school bus driver for numerous years being the first female bus driver in Utah. She was instrumental in getting culinary water into Lawrence and the surrounding areas. Later she & Willis K served several years on the North Emery Board. She was also a timer for several years for all of the local rodeos. She had several callings in the LDS Church serving in the Relief Society and Young Women's. Willi & Utahna spent several winters in Arizona after their retirement. She had a fun sense of humor, never met a stranger and always left with a joke.
She is preceded in death by her loving husband, Willis K. Wilson; her mother, Isabella Knight Allred; father, James Franklin Allred; brothers, James Harold, Vernon Russell, Doyle Lewayne, Vonal Knight and Nordell Allred; sister, Mary Clarissa Allred Wilstead; great-granddaughter, Emma Evertsen; and great-grandson Nixon Evertsen.
She is survived by her children: Kay (Steve) Williams of Nevada, Bob (Diana) Wilson of Lawrence, Rod (Ellen) Wilson of Colorado and Tona Jo (Kevin) Frazier of Lawrence, 12 grandchildren, 32 great-grandchildren, and 9 great-great-grandchildren
The family would like to extend a special thank you to Pinnacle Nursing and Rehabilitation and Cheyenne Ockey for her loving care.
Funeral services will be held Saturday, October 14, 2017, 11:00 a.m. at the Huntington 5th LDS Ward (115 South 400 East) in Huntington. A viewing will be held at the church Friday evening from 6:00-8:00 p.m. and Saturday one hour prior to service. Burial will be in the family plot in Lawrence by her home. Arrangements entrusted to Mitchell Funeral Home of Price where friends are always welcome daily and may share memories of Utahna online at www.mitchellfuneralhome.net