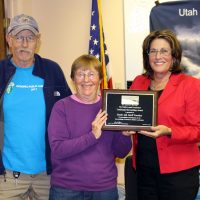 On Oct. 3, Maggie Wyatt of the Public Lands Foundation presented the 2017 Landscape Stewardship Award to long-time volunteers, Geoff and Sandy Freethey.  The BLM nominated the Freetheys for their dedicated service helping BLM develop a world-renowned non-motorized trail system, promote responsible recreation, and improve public lands surrounding Moab. The BLM extends its thanks to Geoff and Sandy Freethey for their continued leadership and to the Public Lands Foundation for honoring them with this award.
The Public Lands Foundation accepts nominations annually and chooses the winner based on outstanding contributions of citizen efforts to bring people together and work to improve management of public lands.  The Freetheys are exemplary volunteers with Grand County Trail Mix, working across agency boundaries to provide our community and visitors with a non-motorized trail system that serves hikers, mountain bikers, and equestrian users.  Although the Freetheys have "retired" from Grand County Trail Mix, they continue to volunteer over 60 hours each week maintaining trails, cleaning up trash, placing signs, and performing other tasks that make a big difference on public lands.
The Public Lands Foundation is a national non-profit organization aimed towards the professional and sustainable management of public lands for responsible use and enjoyment by everyone.  For more information about the Public Lands Foundation, please visit: www.publicland.org.  To learn more about Grand County Trail Mix and volunteer opportunities, go to: www.grandcountyutah.net/223/Trail-Mix-Committee.
If you would like to learn more about volunteer opportunities with the BLM, please call the Moab Field Office at (435) 259-2100 or visit: www.blm.gov/get-involved/volunteers.  Persons who use a telecommunications device for the deaf (TDD) may call the Federal Relay Service (FRS) at 1-800-877-8339 to leave a message or ask a question.  The FRS is available 24 hours a day, seven days a week.  Replies are provided during normal business hours.
The BLM manages more than 245 million acres of public land, the most of any Federal agency.  This land, known as the National System of Public Lands, is primarily located in 12 Western states, including Alaska.  The BLM also administers 700 million acres of sub-surface mineral estate throughout the nation.  The BLM's mission is to manage and conserve the public lands for the use and enjoyment of present and future generations under our mandate of multiple-use and sustained yield.  In Fiscal Year 2015, the BLM generated $4.1 billion in receipts from activities occurring on public lands.