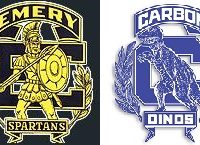 The Carbon Lady Dinos scored one goal in each half to upset the Emery Lady Spartans 2-1 in the opening round of the 3A Soccer State Championship Tournament Wednesday afternoon in Castle Dale.
Elley Cowdell and Grace Broadbear found the back of the net  to push the Carbon offense. Holding a 1-0 lead at the end of the first half, the Lady Dinos played an even half with Emery to complete the upset win.
Entering the state tournament as the No. 6 seed from Region 14, Carbon had lost seven of eight games leading up to Wednesday. The win is also the first for Carbon over Emery in three tries.
The loss brings an end to the most successful season to date for Emery. In only the program's third year of existence the team finished second in the division with a record of 8-2. A one-goal loss to unbeaten Manti placed Emery as the No. 2 seed in the state tournament, setting up the contest with Carbon.
Carbon will now move on to the quarterfinals to meet North Sanpete, the No. 3 seed from Region 14, Saturday in Mount Pleasant. While the two teams have not play this season, North Sanpete suffered two losses to Emery by a combined score of 10-2.
The winner of Saturday's quarterfinals match-up will advance to the semifinals to face the winner of Delta and Judge Memorial on Friday, Oct. 20.