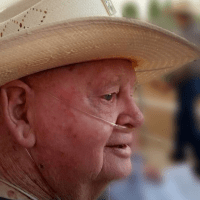 L. Wood Miller (Ted) born February 12, 1927 departed mortal life on October 19, 2017 after an extended illness. He was born and raised in Castle Dale, Utah.
Ted was a man with a great sense of humor and a gift to make people happy and to laugh. When he was with his brothers Marvin and Dee everyone was watching their backs as the practical jokesters spared no one the fun. He loved horses and being outdoors with horses and cows in the San Rafael. One of his favorite sayings: Life was either "horse feathers", or "finer than frogs' hair".
Wood served his country proudly in the United States Navy from February 10, 1945 to July 3, 1946. He served on the USS Wheatland and later on the USS Pennsylvania. He served in the Navy during WW II, and survived the Japanese torpedoing of the USS Pennsylvania at Okinawa in the final day of the war. He was released from the Navy with an Honorable discharge. He held various jobs such as miner at numerous mining companies, carpenter, horse wrangler, he was the happiest when he worked outdoors with horses and cows. He also loved working for the Forest Service.
He was very passionate about the Boy Scouts. He has served in many positions to support the troops where he helped his 3 sons achieve the rank of Eagle. Because of his service, he was awarded the Silver Beaver. He was an active member of the Church of Jesus Christ of Latter-day Saints until health reasons prevented him from being actively engaged.
L Wood is survived by (7) children, Jerry (Barbara) Miller, Thea (Bruce) Nicodemus, Tresa (Larry) Christensen, Newman (Laura) Miller, Timothy (Lois) Miller, Tera (Bill) Strohl, Shane (Leah) Miller, step son, Eric (Carol) Noland. He also is survived by 25 grandchildren and numerous great grandchildren and two step grandchildren. He was preceded in death by Willard and Anna Laura (Dad and Mom), Marvin and Dee (Brothers), Neva (Sister), Dorothy Tallerico (first wife, divorce) which he had three children, Ed Lena (his second wife) which he had four children, Verda Rex (third wife) and Delana Norland (one step son), his grandchildren Jeremiah Miller and Brenda Nicodemus.
Funeral services will be held Thurs, Oct 26, 2017 at the Castle Dale Stake Center, 50 East Main at 11:00 a.m. with viewing one hour prior to the service. There will also be viewing Wed, Oct 25, 2017 from 5:00 to 7:00 p.m. at Fausett Mortuary in Castle Dale. Interment will follow at Castle Dale Cemetery.
Family and friends may sign the guestbook and share memories of Ted at www.fausettmortuary.com.