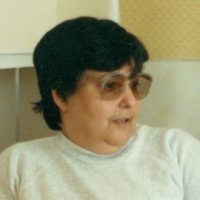 Rosemary led a simple life, never wanting more than what she had. She was content in the life she lived, and experienced highs and lows like most of us.
Rosemary was born in Grand Junction Colorado, her parents at that time farmed Cantaloupe. Having no real success in that her father moved their family to East Carbon where the coal mining in Sunnyside had become popular for young hard working men as they would be able to better provide for their families with the higher wages they earned. East Carbon is where my mother, and her two brothers spent their years growing up.
Being of Italian descent, she grew up catholic, and graduated from Notre Dame here in Price.
Her parents divorced, they waited until the kids graduated high school to do so. Mayme, her mother decided to take a job in Yellowstone Park, working in the lodge, and all three of her kids went with her, taking jobs there themselves.
My mother found love in Yellowstone Park. My father who was staying with his aunt in SLC after serving in the Army for three years went to Yellowstone Park to visit before returning back to Holland, which is where he was from.
Mom and dad married there at the lodge shorty after they met and my father stayed and took a job there himself. Once he earned enough money he swept my mother away to another country where she experienced not only culture change but was thrust into a very large family. She learned a new language, a new way of life, and became a mother to four.
They divorced 10 years later and she moved her and her three children back to East Carbon, where her father still resided, a retired coal miner at the time. Her father passed away within 3 months, leaving her alone to raise three kids.
She did the best she could under the circumstances. The following year she moved to Price as that is where the work was. She took on various housekeeping jobs until she found a career at Price hospital which later changed to Castleview hospital and retired there after 19 years.
Mom became ill shortly after that and needed in home care for the rest of her remaining years which ended up being 17 years. Her son Harry, stayed with her and cared for her until the very end. A job only a son who loved her more than any words could express could do. For that everyone including my mom was grateful.
A mother of 4, Terry, Teressa, Victor and Harry, a grandmother of four, through Teressa, Holly and Timothy Van Wagoner, through Victor, Brittany and Nickolas Velgersdyk, A great grandmother through Brittany to Payton Rose and Grace, and through Holly and (Richard) Xhaiden Whiting.
She is preceded in death by her first born Terry; her parents, Victor and Carmela 'Mayme', Miller and her three brothers, Victor, Roland and Michael, and recently her grandson Nickolas Velgersdyk.
Funeral service, Monday, November 13, 2017, 11:00 a.m., Mitchell Funeral Home. Family will receive friends one hour prior to service. Interment, Price City Cemetery next to her parents and brothers. Arrangements entrusted to Mitchell Funeral Home of Price where friends are always welcome daily and may share memories online at www.mitchellfuneralhome.net