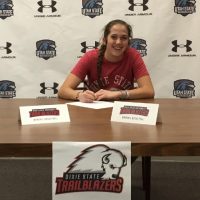 USU Eastern Press Release:
PRICE, UTAH – Utah State Eastern sophomore guard Madison Loftus signed a letter of intent with Dixie State University on Wednesday.
Loftus will continue her college basketball career at Dixie following the 2017-2018 season and after she graduates from USU Eastern in May.
"I really like the coaches and I feel like I fit in with their system. The location made it so it is close enough for family to come watch games," said Loftus.
After recently visiting the campus in St. George last month, the choice to continue her career at Dixie was a no-brainer for her.
"When I went down there I felt like it was the place for me to be and a great atmosphere," said Loftus.
She will join her former teammate Maile Richardson at Dixie State next season, something that USU Eastern Head Coach Chelsey Warburton is excited to see.
"It is a great program where she will continue to grow on and off the court. I am looking forward to following her and Maile," said Warburton
Richardson played forward for the Eagles from 2015-2017 before transferring to Dixie this summer.
Last season, Loftus was named an NJCAA All-American and first team All-Region XVIII after averaging a team-high 15 points per game and leading the Eagles to the Region XVIII Tournament semifinals.
During the 2016-2017 season she broke the three-point shooting record at USU Eastern after making 85 shots from behind the three-point line.
She also was ranked in the top 20 nationally in three point shots and free throw percentage (85%).
The Eagles currently have a 1-1 record so far, this season, both games played have been on the road last weekend.
This weekend they will take on Salt Lake All-Stars on Friday night at 5:30 p.m. and Laramie County on Saturday at 3 p.m. at home.
Both games will be live streamed on the USU Eastern YouTube channel or on koalitv.com.