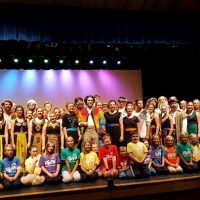 The Carbon High School Theatre Arts would like to invite everyone out to their first performance of the school year entitled Joseph and the Amazing Technicolor Dreamcoat. Performances will be held at 7:00 pm at the Carbon High School Auditorium on November 15 through the November 18 and last showing on November 20.
"The whole story comes from the Bible, the Book of Genesis about the coat that Joseph was given by his father and it was written way back in the late 1960s, as a little 20-minute show for a small school in London, England," said Theatre Teacher, Steve Pay. "It just grew and grew and grew into a Broadway staple and became one of the cornerstones for a lot of theatre companies to do." The show has very little spoken dialogue and is almost entirely sung through catchy tunes. The students have been very busy with rehearsals since September learning songs and dance routines.
The box office has established a more convenient way for guests to purchase tickets. "We are doing something a little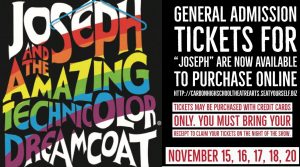 different with tickets this year. Tickets are $5.00 for adults and $3.00 for children but they can actually pre-purchase them online and it will save from having to stand in line when they get there to the door," stated Pay. Tickets can be purchase by visiting http://carbonhighschooltheatrearts.seatyourself.biz and a copy of the receipt will need to be brought to the box office as proof of online purchase.
To learn more about the Carbon High School Theatre Arts visit their Facebook page.
PHOTO COURTESY OF CARBON HIGH SCHOOL THEATRE ARTS