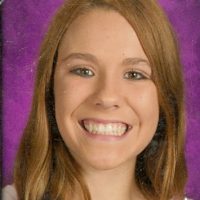 On November 12, 2017, Cheylee Montgomery returned to our lord. He must have needed another special angel. She was 25 years old.
Cheylee graced our presence on March 16, 1992. She did have to grow into that Montgomery nose and did. She was the only person that had perfectly straight and pearly white teeth. She would brush them 5 times a day.
Cheylee you will live on in our hearts forever. You will be remembered every second of the day. You are mom's shining star, shine bright baby so I can find you when it's my time. Thank you lord for blessing us with the
beautiful but short life of Cheylee. Special thanks to her cousin Nicole Milano for making Chey look beautiful like she could be.
Survived by her father, Cameron Montgomery; mother, Jo L. (Thomas) Martinez; brothers, Chandon, Cameron, Jr., Brandon Montgomery; sister-in-law, Rachel Montgomery; nieces, Cadence and Cheyanne Montgomery; grandfather, James Montgomery; Bert Fryer; grandmother, Anne Montgomery; grandmother, Helen Fryer; special 2nd father, Sen Sei Mike Martinez; also survived by numerous aunts, uncles, cousins and friends.
Funeral service, Friday, November 17, 2017, 11:00 a.m., Mitchell Funeral Home. Family will receive friends Thursday evening from 6:00-7:30 p.m. at Mitchell's. Interment, Cliffview Cemetery. Arrangements entrusted to Mitchell Funeral Home of Price where friends are always welcome daily and may share memories online at www.mitchellfuneralhome.net.