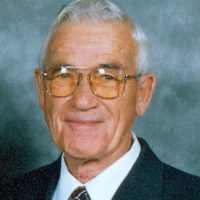 Lawrence "Larry" Widman, age 89, passed away peacefully at home on November 9, 2017.
He was born August 1, 1928 in Hiawatha, Kansas to Chris and Mabel Miner Widman.
Married the love of his life Mary Potochnick on December 19, 1953 in Las Vegas, Nevada. She passed away October 9, 2014.
Larry was a member of the First Christian Church. He joined the Navy in 1946 and served five years. He was a veteran of the Korean Conflict. He loved camping in the desert and mountains, hunting, fishing, floating the
Green River and spending the warm winters in Arizona with his wife and friends. His greatest joy was the times spent with his family on vacations and many outings. Larry enjoyed square dancing and playing cards with his
friends. He will be dearly missed by all who knew and loved him. The family would like to extend a special thanks to all of dad's friends and family for their support and a heartfelt thanks to CNS for their compassionate hospice care especially JJ, David, Barbara, Doug and Alice.
Survived by his children, Steven (Eric Bell) Widman, Camas, Washington, Susan (Kevin) Bryant, Draper, Utah; grandchildren, Jessica (Bo) Cecala, Shawn (Anna) Fillingim; great grandson, Ridge Fillingim; great
granddaughter, June Fillingim; great grandsons, Gregory and Damian Cecala; many nieces and nephews.
Preceded in death by his parents; wife, Mary; brothers, Stanley, Melvin and Keith Widman, all of Kansas.
Funeral service Thursday, November 16, 2017, 11:00 a.m., Mitchell Funeral Home. Family will receive friends one hour prior to service. Interment, Mt. View Cemetery, Helper. Arrangements entrusted to Mitchell Funeral Home of
Price where friends are always welcome daily and may share memories online at www.mitchellfuneralhome.net.