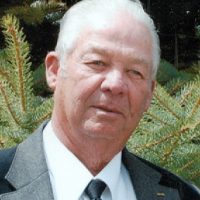 Loy Ray Thomas, 78, passed away Thursday, November 9, 2017 while surrounded by family.
He was born July 16, 1939 in Watts, Oklahoma to Maynard Milton and Edith Katherine Welch Thomas. Married Ila Sue Folsom, later divorced. Married Beverly Beckstrom, she later died. On March 31, 1974, he married Thelma
Long in Eureka, Utah and they enjoyed 43 wonderful years of marriage. Loy was a dedicated employee wherever he worked. He began working at the age of 14 and was willing to put in as many hours as needed to get the job done. He worked in the coal mines and was on the mine rescue team, always putting his life on the line for others. Loy, along with his wife, served three LDS Missions at Martin's Cove and two at Desert Land and Livestock.
He was willing to accept any calling. His callings ranged from a Boy Scout Leader to Quorum of the Seventy, with many in between. The latest being a worker at the Manti Temple. Loy will always be remembered for his
willingness to help anyone in need. He is a true example of a servant of Christ.
Loy was a member of several organizations such as the baseball, rodeo, ATV and muzzle loading clubs. He also enjoyed camping, hunting, and fishing with large groups of family and friends. In his later years, he made many
precious memories with his children and grandchildren, often times traveling many miles to do so. His wisdom and comfort will always be cherished. Even as his body was shutting down his heart was full of concern for his family
and friends surrounding him. Loy was comforting everyone that they would be okay until we all meet again.
He is survived by his wife, Thelma Thomas, Wellington; six children, Jesse (Jeannette) Thomas, S.L.C.; Vicki Johnson, Silver City, NM; Tami Salerno, Bargersville, IN; Elisabeth (Gary) Hall; Tina (Fred) Lundell, Price; Twyla
(Tom) Hastings, Miller Creek; special daughter, Arlinda (Fill) Segay, White Cone, AZ; sister, Lois Hamilton, Oregon; three brothers, Harold (Kitty) Thomas, Spanish Fork; Norman (Linda) Thomas, Goshen; Larry (Jackie) Thomas,
Miller Creek; 29 grandchildren and 37 great grandchildren.
Loy was preceded in death by his parents; daughter, Kim Lucero; son, Ray Martinez; three brothers, John, Micky, and James; and four sisters, Norma Jean, Arvalene, Cova and Twyla.
Funeral service, Tuesday, November 14, 2017, 10:00 a.m., Wellington First LDS Ward (50 North 100 East). Family will receive friends at Mitchell Funeral Home Monday evening from 5:00-7:00 p.m. and at the church Tuesday
one hour prior to services. Burial will follow in the Goshen City Cemetery at 2:30 p.m. Arrangements entrusted to Mitchell Funeral Home where friends are always welcome daily and may share memories of Loy at
www.mitchellfuneralhome.net