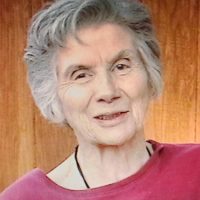 Our mother, grandmother, sister and longtime friend, Lucie H. Cook, age 88, passed away peacefully November 24, 2017 at the Heirloom Inn in Price with family by her side.
She was born January 12, 1929 in Huntington, Utah. Married Byron E. Cook, August 27, 1947 in Panguitch, Utah. He passed away on September 16, 2009 at the age of 89.
Lucie's pride in life was her 60 year pin she received in 2013 for her membership with the American Legion Auxiliary and her devotion to the support of our veterans. She was a longtime resident of Carbon and Emery Counties and a member of the LDS Church.
She was preceded in death by her parents, husband, oldest son, Robert S. Cook; and grandson, Eric F. Cook.
Lucie is survived by her sisters, Georgia (Mark/Deceased) McDonald, Lander, WY, Sally (Neil/Deceased) Thompson, Price, Margaret (Gary) Pfaffenberger, New Harmony, UT, Pauline (Paul) Roberts, Enoch, UT; her children, Connie
(Lenord) Harding, Price, Brad (Janice) Cook, Price, Kandi (Mike) Uffer, Lindon, UT, Debbie (Walt) Vickers, Marion, IL. Lucie is also survived by 12 grandchildren, many great-grandchildren, 2 great-great-grandchildren and one
more on the way.
The family would like to give heartfelt thanks to the staff of the Heirloom Inn, especially Kelly who has always known what to do in any given situation along with Steve who was there for us at the end. Also a special thanks to
those at CNS in particular RaeAnn and Angie whose compassion helped us while mother was with hospice.
Funeral service, Saturday, December 2, 2017, 11:00 a.m., Mitchell Funeral Home (233 East Main Street) in Price where the family will receive friends at 9:30 a.m. on Saturday. Interment will be in the Cliffview Cemetery.
Arrangements entrusted to Mitchell Funeral Home where friends are always welcome daily and may share memories of Lucie online at www.mitchellfuneralhome.net