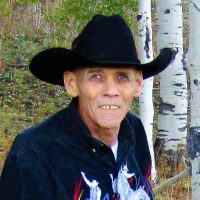 Randall Wayne "Bo" Hester, age 56, passed away November 28, 2017 at his home in Price.
He was born March 20, 1961 in Salt Lake City, Utah to Harold LeRoy and Miriam Renee Anderson Hester. On September 8, 2004, he married Barbara Ann Marie Livermore in Wellington, Utah.
"Bo" was very patriotic and honorably served his country in the US Army from September 12, 1978-December 31, 1990. He shared a deep passion for the outdoors, especially camping, fishing, hunting and following NASCAR. He was a long haul truck driver by trade and had the opportunity to haul for Dale Earnhart and Steve Park. He was very meticulous and recently enjoyed restoring rifles. He will be dearly missed by his family and many longtime friends.
Survivors include his wife, Barbara Hester; three daughters and one son, Cheyenne Willow Hester, Emma Marie Hester, Joshua Randall Hester, all of Price, Amanda Michelle (Max) Cordova, Belton, TX; step-children, Adrianna
States, Brandon States, both of Price; mother, Miriam Hester, Las Vegas, NV; two sisters and one brother, Claudia (Max) Porter, Orangeville, Barbara Phillips, Provo, Steven (Shelly) Hester, Las Vegas, NV; father-in-law, Sherwood Livermore, Randolph, NY; sister-in-law, Ginger (Rick) Black, Chili, NY; brothers-in-law, Matthew Livermore, Olean, NY, Sean Livermore, Jamestown, NY.
He was preceded in death by his daughter, Dakota Renee Hester; father, Harold Hester; sister, Rose Lindenmuth; and a brother, Gary Hester.
A Celebration of Randall's life will be Monday, December 4, 2017, 11:00 a.m., at Mitchell Funeral Home (233 East Main Street) in Price where the family will receive friends one hour prior to service. Interment, Cliffview
Cemetery, Price. Arrangements entrusted to Mitchell Funeral Home where friends are always welcome daily and may share memories of Randall online at www.mitchellfuneralhome.net