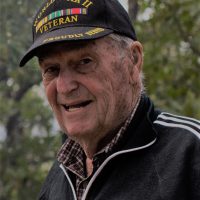 Our loving father, grandfather and great grandfather, Thomas Andrew Gwynn, age 94, passed away on November 21, 2017 in Price, Utah with family by his side.
He was preceded in death by his sweet wife Gwenevere and is survived by his seven children and 103 grandchildren and great-grandchildren. Thomas was an active member of the Church of Jesus Christ of Latter Day Saints where he
served in many callings. He worked hard to provide for his family and was proud of all his children. He was a veteran of WWII where he served as a statistical control officer for the Army Airways Communication System.
Tom's family would like to thank those at the Beehive Home who cared for him this past year.
The funeral service will take place at the Utah Veteran's Cemetery and Memorial Park in Bluffdale on Wednesday, November 29, 2017 at 11:00 a.m. Tom's family will receive friends at Mitchell Funeral Home on Tuesday evening from 5:00-7:00 p.m., and at the Utah Veteran's Cemetery and Memorial Park Wednesday one hour prior to the service. Arrangements have been entrusted to the Mitchell Funeral Home of Price where friends may share
memories of Thomas online at www.mitchellfuneralhome.net.