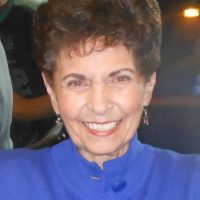 Lamona Fay Meyers went to heaven peacefully on Tuesday, November 28th, 2017. She was born on January 9th, 1940 in Kalispell to Lyman H and Lillian (Viano) Claridge.
Grandma grew up in Kalispell, married Bud Lowitz and together they raised 3 amazing children. She loved to play golf with her dad, was a professional ceramic instructor and had a love for horses. She went to Kinmon Business
School in Spokane and went to work at Conrad Bank in Kalispell. Later, she was the bookkeeper for LHC Incorporated for many years. After leaving LHC she became a partner at Lowitz Custom Shoppe in Kalispell. After 30 years of marriage, Grandma and Grandpa decided to go their separate ways.
Grandma loved life, she was a true genuine person, who sparkled. She enjoyed hearing the love and laughter that surrounded her while we gathered around the table visiting with family and friends. Family was most
important to her. She married Marvin Meyers in 1992 and co-owned Marvin Meyers Logging. Work took them to Utah in 1996 and it remained her home until her passing. She loved the colors and the sun in Utah. After the
passing of her husband in 2014, taking care of her best buddy, and constant companion – Gabby, became her priority.
"Mom ~ Grandma ~ The hardest part wasn't losing you, the hardest part is learning to live without you."
She was preceded in death by her loving husband, Marvin Meyers; her parents, Lyman and Lillian Claridge; her sister Loretta Grosswiler.
Grandma is survived by her brother, Roger (Deane) Claridge; Son, Rod (Karen) Lowitz; grandkids, Nicole (Matt) Tindale; great-grand babies, Kaitlynn and Ryker; grandkids, Danielle (Dustin) Bowen; Son, Dave (Melanie) Lowitz;
grandkids, Kayla Lowitz, Kelsey (Trent) Burton; Daughter, Lisa (Charlie) Sweet; grandkids, Malea, Shelby and Brianna Sweet; Best friend, Dianne Jensen; many nieces and nephews.
"We know your love will always be with us, may the Lord bless you and keep you."
There will not be a funeral due to grandma's wishes, but we will celebrate her amazing life at a later date. Arrangements entrusted to Mitchell Funeral Home of Price where friends are welcome daily and may share memories of Lamona online at www.mitchellfuneralhome.net