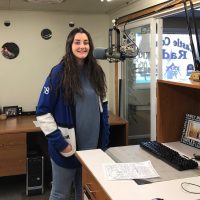 The Carbon High School Student Government is ready for another successful year of their Carbon Christmas fundraiser. This annual holiday event hosts various activities throughout the community to earn money during the month of December.
Details of this year's activities were presented to the entire student body during an assembly. The student government officers encouraged and explained to each student how they could help deserving families for Christmas. Each year a goal is set to outdo the previous year's earnings, which was $22,648.30 last year and this year's goal is to reach or beat $27,000.00.
The Student Government is able to work towards their goal through the assistance from a few local restaurants. "So today is our Taco Time benefit day, it is all day, so if you go to Taco Time we get a portion of the proceeds," said Student Body President, Abby Robertson. "On December 7 we will have our KFC Root beer Float Benefit and that is from 5:00 pm to 10:00 pm. So, root beer floats are $2.00 and its cash only." Student Government officials will also be serving, waiting tables at Winger's on December 19 from 4:00 pm to 10:00 pm. All of the tips that is earned during the night will go towards Carbon Christmas.
Making a return this year is the Carbon Christmas Odd Job program. This is where small groups of high school students accompany a representative from student government seeking odd jobs in the community. Jobs can range from taking garbage out, washing dishes, walking dog or shoveling snow. This is considered a service project for students, however, community members may make a small monetary donation to show their appreciation. To make arrangements for help with an odd job, email chsstudgov@carbonschools.org.
A few new events have been developed this year, Bunco Night on December 12, Zumbathon during the Carbon Christmas benefit night on December 14 and a Male Beauty pageant on December 18. The Stuff the Bus activity will be held on December 16 at Walmart.
If community members have any questions about Carbon Christmas they may contact the school at 637-2463.