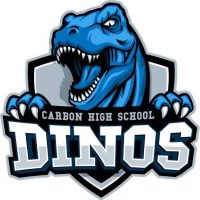 A late fourth quarter rally fell short for the Carbon Dinos as the team suffered it's third consecutive loss, this time falling to the Richfield Wildcats 63-55 at home Tuesday evening.
Starting out slow offensively the Dinos trailed Richfield 32-22 at the end of the first half. The Wildcats extended the lead to 17 by the end of the third quarter. Carbon managed to outscore Richfield 23-14 in the final eight minutes, but was unable to complete the comeback.
Senior Jordan Vasquez connected on three shots from beyond the perimeter as he scored a team high 13 points. Derek Hillam and Colin Lewis also reached double-figures scoring 12 points a piece. Kaleb Nelson helped balance the offensive production with nine points.
Emmett Hafen posted a game high 14 points to lead the Wildcats to the team's fourth win in five tries this season. Payton Thompson poured in 11 points and Keldon Anderson finished with ten.
Tuesday's loss sends the Dinos to 1-4 on the young season, and 0-2 against in state competition. Carbon will have an opportunity to bounce back Wednesday with a trip to Castle Dale to meet the Spartans. The week of action will come to an end Friday with a road tilt against Spanish Fork.