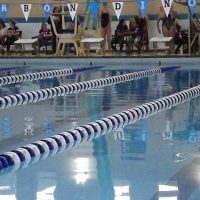 The Carbon Dinos and Emery Spartans shared the swimming pool for the first time this season, as Carbon also welcomed the Gunnison Bulldogs to the Desert Wave Pool Tuesday afternoon.
The Lady Dinos delivered a dominating performance on the girl's side of the pool, claiming first place in ten of the 11 events to finish with 89 points. Emery recorded one first place nod and finished second with 78 points. Gunnison rounded out the field of three by scoring three points.
The Emery boy's squad used six first place finishes and depth scoring to top Carbon for the top team score 85-66. Gunnison again finished in third with 18 points.
Each of the 22 events were won by either Carbon or Emery as the two teams met for the first of two times during the season. The second will come on Tuesday, Jan. 9 at the Emery County Aquatic Center.
Carbon will take the remainder of the week off before returning to the pool on Dec. 12 at home against Payson, Uintah and Wasatch Academy. The Spartans will next travel to Grand on Thursday.
View the complete results from Tuesday meet here: Tuesday-Dec.-5