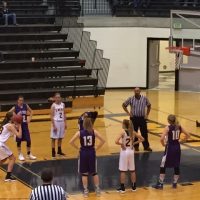 The Emery Lady Spartans continued to dominate on the basketball court, improving to 4-0 with an 85-47 victory over the Union Cougars Tuesday evening at the Spartan Center in Castle Dale.
Holding a 35-23 lead at the end of the first half, Emery blew the game open with a 23-2 run in the third quarter. The second half domination allowed coach Lynn Tuttle to empty the bench, giving a total of 12 girls an opportunity to record a statistic.
Bailey Huggard posted 14 points and 10 rebounds on her way to notching the game's lone double-double. Megan Jensen led the team in scoring with 21 points, while also accumulating five boards and three steals. Kacelynn Toomer stuffed the stat sheet with 20 points, eight rebounds, five assists and three steals.
Kennedy Ross scored a team best 16 points to lead Union as the team dropped to 3-3 on the season. Reagan Anderson finished with 12 points and Tori Ross contributed eight in the setback.
Tuesday's blowout win falls in line with the previous three games for Emery. In four outings this season the Lady Spartans have outscored their opponents 312-172. Currently averaging 78-points per contest, Emery is only allowing 43.
The Lady Spartans will return to the court on Thursday with a road trip to Beaver. The Beavers are currently 2-1 on the season with wins over Canyon View and Dixie.