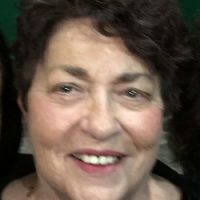 Charlene (Marinoni) Dupin, age 75, passed away on January 1, 2018.
Words cannot express what she meant to us and how she impacted each of our lives! Coach Dupin was a strong, confident, supportive leader who made a difference in the lives of everyone she knew.
She was born June 9, 1942, in Bremerton, WA to Anna (Caserio) and John Marinoni. She was a lifelong resident of Price, UT. She married Paul Dupin, August 8, 1964 at Notre Dame Catholic Church. She graduated from Notre Dame
High School in 1960 and Carbon College in 1962. She received her bachelor's degree in secondary education from USU in 1964 and earned a master's degree in administration from BYU in 1984.
After graduating from USU, she moved back to Price to begin her long and illustrious teaching career. She taught at East Carbon Jr. High School for a year and spent 37 years teaching at Carbon High School. During her 38 years
of teaching, she successfully educated countless individuals in PE and Math. She had a brilliant, logical mind and taught complex topics with ease. She was a major presence in Carbon School District, respected by students,
parents, and teachers alike. She was not only a teacher, but a friend to students. She had a listening ear when a student needed to talk and she always lent a shoulder to cry on.
Her effectiveness in the classroom was mirrored by her success in the athletic arena. Coach Dupin cared deeply for her athletes and her kind, no nonsense coaching style was legendary. She was at the forefront in championing girls' participation in athletics. She was the first at Carbon High School to coach girls' basketball, volleyball, tennis, and coed swimming. She also served as the advisor to Drill Team, Cheerleaders, and Pep Club. She began her coaching career with girls track and developed the program into one of the best in the State. She believed each athlete could
thrive with encouragement and hard work. Her highest honor in track came in 1980 when the CHS track team won the state championship followed by a second-place finish in 1981. Those of us who ran track for Coach Dupin are
thankful for the lessons she taught us on and off the track.
Mrs. Dupin was the Athletic Director at Carbon High and Region 8 for many years. She also served on the Utah High School Activities Association board for 6 years. She received numerous awards throughout her career including
Carbon 'Teacher of the Year,' and Price City 'Visionary Service Leader Award.' She was inducted into the CEU Athletic Hall of Fame in 2000 and inducted into the Utah Interscholastic Athletic Administrators Association
Hall of Fame in 2004. In 2008, she was named the Utah High School 'Super Fan' with her husband, for their loyal devotion to and support of Utah's youth. The Dupes loved sports!
Charlene volunteered in many school and community activities. She was a devout member of Notre Dame Catholic Church, SNPJ Lodge 113 Secretary, and the Italian Lodge. In retirement, she enjoyed serving others at Notre Dame
funeral dinners.
Charlene Dupin's contribution to the world cannot be summed up with one major event, rather she has touched countless individuals who have gone on to make the world a better place.
Survived by her daughters, Paula (Paul) Dupin-Zahn, Kaysville, UT; Pamela (Shane) Dupin-Bryant, Stansbury Park, UT; grandchildren, Patrick Paul Zahn, Samantha Dupin Bryant, Phillip Charles Zahn, and Zane Dupin Bryant; sister,
Judy Cobb, Las Vegas, NV; and many friends and past students whom she loved dearly. Preceded in death by her husband Paul and her parents Anna and John Marinoni.
Viewing Thursday, January 4, 2018, 5:00-7:00 p.m.; Eulogies and Vigil service, 7:00 p.m. Mitchell Funeral Home. Funeral Mass, Friday, January 5, 2018, 11:00 a.m., Notre Dame Church. Family will be at Mitchell's one hour
prior to Mass. Committal service, Price City Cemetery. In lieu of flowers, the family would appreciate contributions to the Dupin Memorial Fund at EUCCU. Arrangements entrusted to Mitchell Funeral Home of Price where
friends are always welcome daily and may share memories online at www.mitchellfuneralhome.net.