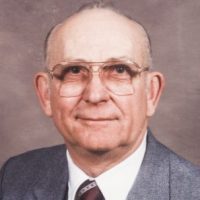 Arville Lee Patton passed away peacefully on January 6, 2018, at the age of 89 under the care of hospice. He was born 11/27/1928 to Jess "JR" and Madge Donathan Patton in Meadow, TX. Arville married Evelyn Marie
Gresham on December 16,1945, in Brownfield, TX. They had two children, Larry and Shirley. Arville remarried in 2003 to Mary Dickerson after Evelyn's death.
Arville studied theology at Southwestern Assembly of God University in Waxahachie, TX in 1953. For over 62 years Arville and Evelyn pastored eight churches throughout Texas, Colorado and Utah and spent a year as an evangelist. Arville and Evelyn started Trinity Christian Center in 1984 in Price, Utah. He retired as senior pastor in 2014. Arville was a very talented machinist making micro parts for Texas Instruments to doing machinist work for various mining companies.
He is survived by his wife, Mary, daughter, Shirley (Aleck) Shilaos, Price; brother, Donald (Roberta) Patton, OK; grandchildren, Kim (Ben) Daniel, TX; Larry (Hanna) Patton, TX; Jennifer (Mike) Chavez, CO; Christa (Justin)
Jackson, West Haven and 13 great-grandchildren. Survivors from his second marriage are Melissa (Joe) Polito, Brian (Melissa) Dickerson and 5 grandchildren.
Preceded in death by his wife, Evelyn; son, Larry; parents, Jess and Madge Patton, sister Vona Rae Chambliss, and grandson Aleck Shilaos, Jr.
Funeral service, Friday, January 12, 2018, 12:00 Noon, Trinity Christian Center. Family will receive friends Thursday evening from 6:00-7:00 p.m. at Mitchell Funeral Home and Friday at the church one hour prior to service. Interment, Price City Cemetery. Arrangements entrusted to Mitchell Funeral Home of Price where friends are always welcome daily and may share memories online at www.mitchellfuneralhome.net.