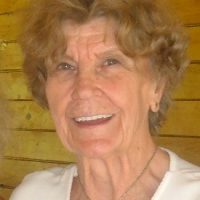 Our loving mother, grandmother and friend Betty Huff, age 95, passed away January 5, 2018 in Price Utah.
Betty was born September 14, 1922 in Standardville, Utah to Royal and Elizabeth Christensen. She married Verl Huff on March 21, 1941. They were married for 64 years. As a proud and devoted wife, she continued to count the years of marriage after his death; it would be 71 years in March.
Betty and Verl lived in many places throughout the years. They raised their 4 children in Dragerton, Utah (now East Carbon) and eventually settled in Helper, Utah.
Betty loved people. It gave her joy to help others, and she would often put the needs of others before her own. She was very generous and if you visited her home, you would most likely leave with a full belly and a little pocket money.
She enjoyed traveling with Verl in their motorhome and watching him fish. In her later years, she discovered her love of art. She treasured the many friendships she made while at Parkdale Health and Rehab.
Betty is survived by her children; Connie Case of Helper, UT; Verlyn (Dan) Kelley of Price, UT; Ron (Jackie) Huff of Centerfield, UT; 10 grandchildren, 16 great grandchildren, and sister Joy Bera.
She is preceded in death by her mother and father, husband Verl, daughter Sherry Renae, son Todd, grandson Derrek, brother Bud Christensen, and sister Merle Bryner.
The family would like to express their gratitude to all the staff at Parkdale for their excellent care, and a special thanks to Jamie Tolich for her countless hours of care and friendship to mom. She loved you all!
Funeral services will be held Wednesday, January 10, 2018. Services are in the care of Fausett Mortuary. The family will receive friends and family from 10-11am, followed by a graveside service at Price City Cemetery.
Friends and family may sign the guest book and share memories of Betty at www. fausettmortuary.com.