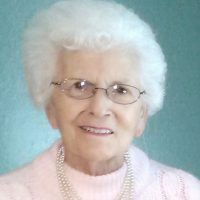 Our loving mom, grandma, grams, grannie-great, aunt and friend passed away on January 6, 2018 at her home in Price.
Emma was the tenth of eleven children born to Domenic and Maria Juiseppa Fazzio Perri in Spring Glen on January 3, 1929. She greatly enjoyed being raised on the farm with her brothers and sisters. The farm was always the
destination for her rides later in life.
Emma married Tony Beacco on October 29, 1949 at St. Anthony's Catholic Church in Helper. Tony preceded her in death on September 3, 2009.
While raising her family, Emma worked as a waitress at the Elks and Carbon Country Club for her sister Venice and brother Angelo. In 1972 she completed her Cosmetology degree and opened Emma's Touch of Artistry in her
home. She would pick up all her ladies that could no longer drive and make sure that they had the opportunity to get their hair fixed. Emma loved doing hair and continued to do hair until 2012.
The Italian Christmas cookies and ravioli she made were delicious. She guarded the recipes closely and worked on each recipe until it was perfect, adjusting ingredients each year. Emma shared her talent with Judy, Catherine and several of the great nieces so that they can carry on the family tradition. Her special knack for making them will be greatly missed. Emma also taught the grandsons and great grandkids to make the ravioli. Many memories were made and a lot of laughter shared in the kitchen.
Emma loved her family. The Huntington camping trips and Memorial Day celebrations were some of her favorite memories. She enjoyed traveling to Country Jam with Tony, her grandsons and Judy and enjoyed spending
Thanksgiving in California with her grandsons and their families. Nothing made her smile more than her boys and the great-grandkids. Emma was also a huge Jazz fan but preferred watching from the comfort of her own home.
Emma was a devout member of Notre Dame de Lourdes Catholic Church, Stella D' America Italian Lodge #77 and SNPJ Lodge #689.
She is survived by her daughter, Judy Beacco, Price; grandchildren Michael(Valarie) Counsil, and Sean (Sara) Counsil both from San Jose, CA; her great-grandchildren Antonio, Alyssa, and Aleigha Counsil and Lily; special family friend, Catherine Kane; sisters-in-law Kay Beacco and Carol Beacco; many loving nieces and nephews; Brenda Counsil.
She was preceded in death by her parents, husband, grandson, Tony Counsil, brothers Domenic, Bill, Ross, Tony, Pete, Angelo and Mike; her sisters Venice, Florence and Viola; several nieces and nephews.
The family expresses special thanks to Margaret Rhoades who called daily to check on Emma and Carol Henrie who would visit with her and bring her communion.
Also thanks to Symbii and the team of Diane, Deborah, Melissa, Shawna and all those at Symbii who gave her care this last year and supported Judy in keeping her at home.
In lieu of flowers the family suggests donations to Notre Dame de Lourdes Catholic Church 185 N. Carbon Ave. or a charity of your choice.
Funeral Mass, Thursday, January 11, 2018, 10:00 a.m., Notre Dame de Lourdes Catholic Church. Vigil service Wednesday evening, 7:00 p.m., Mitchell Funeral Home. Family will receive friends Wednesday and Thursday at
Mitchell Funeral Home one hour prior to service. Committal service, Mt. View Cemetery, Helper. Arrangements entrusted to Mitchell Funeral Home of Price where friends are always welcome daily and may share memories online
at www.mitchellfuneralhome.net