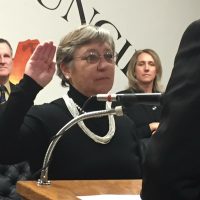 After being sworn in at the beginning of the year, Terry Willis is ready to serve her second term on the Price City Council. She was first appointed back in 2015 after being selected from a handful of applicants to fill a vacant seat that became available. This will be her first full four-year term and she is looking forward to some exciting things happening in the city.
"One of the things that is coming up in the near future that we're going to be entering into a new contract with UAMPS. It has to do with diversifying our portfolio for how we bring electricity to the city, trying to keep our costs low as possible," said Willis. UAMPS is an acronym for Utah Associated Municipal Power Systems which is a governmental agency that provides comprehensive wholesale electric energy, on a nonprofit basis, to community-owned power systems throughout the Intermountain West.
The project currently being considered involves small nuclear reactors the enable the production of power on demand and doesn't generate the nuclear waste as a big power plant would. "It's a pretty cool technology and I'm looking forward to seeing that as part of our big portfolio for generating the municipal power because we are trying to get good consistent power and keep our rates as low as possible for our citizens," explained Willis. She has been attending several meetings learning about the technology behind this concept. An opportunity will be made available for community members to learn the details of this project within a regular city council meeting sometime in February.
Price City residents are welcomed to attend city council meetings to learn about current community affairs. "We like to have faces there, keeps us on our toes, make sure that we are really remembering who we serve. We serve the community, it is not about what we want, it's about what's best for the community," stated Willis. The first city council meeting of the year and with the city's new mayor will take place on Wednesday, January 10 at 5:30 pm inside the city chambers located at 185 East Main Street. A live stream of the meetings is available through Emery Telcom.