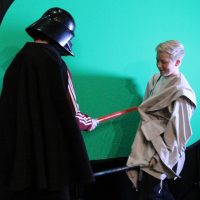 Carbon Schools District Press Release, by Richard Shaw:
A few months ago Utah Lieutenant Governor Spencer Cox was visiting a company in Utah County called BrainStorm, Inc. The firm specializes in technology adoption and education. After the tour company leaders asked him what they could do to help with technology education in Utah. Cox told them in no uncertain terms that they needed to look away from the Wasatch Front and help rural communities and schools.
"He didn't even hesitate," said John Wade, a principal officer at BrainStorm. "He told us to reach out to a rural school or school district and ask the same question."
Consequently Brainstorm began to look for partners in rural Utah to work with and they found that Carbon School District, with its early emphasis on one to one electronic devices in students hands and an overall philosophy of embracing technology was a good fit.
On Tuesday, at Mont Harmon Middle School, they made the first substantial step in that direction by presenting a SPARK Technology Fair with the theme "Your Spark, Your Mark."
During the day students at the school went to the auditorium and got first hand lessons in such things as virtual technology, HTML coding, graphic design, video production and video editing. The effort was the start of what will become a long term relationship between the company and Carbon School District.
"This is not a flash in the pan or just about 2018," explained Eric Farr, a principal officer at BrainStorm. "This is our starting point and we want to use our expertise, our creativity and our enthusiasm to point students toward technology careers."
Business in this day and age needs students to be trained in the right things when they get out of high school. Students also succeed better if they have a strong technology background when they enter college too. This was a beginning to get students excited about what their jobs might be like in the future.
"Cathy Davidson from Duke University predicts that for school children that are getting an education today, 65 percent of them will be working in jobs and careers that have not yet been invented," said Wade. "When I first heard that prediction I was very skeptical. But when I thought about it, when I was in grade school no one was planning on working in business that had the Internet, smart phones and other technology that exists today. So that is a prediction that is easy to believe."
While the company is working at the district level they also know that the teachers at a school are one of the important keys to helping students realize what could await them if they get the right kind of training. Their emphasis is to not only teach students but help teachers as well.
That morning the fair wasn't all that took place at the school however. A number of community business leaders were at Mont Harmon along with school district officials to welcome the person that "sparked" the partnership. At 10 a.m. that morning Cox himself showed up to attend a press conference on the ground breaking event.
"I can't tell you how excited I am about this," said Cox as he began his remarks. "In fact I am emotional about it. When I met with John and Eric I started thinking about what was happening in Utah's 25 rural counties. I was born and raised in Sanpete county and went to Fairview Elementary, as well as North Sanpete Middle School and Sanpete High School. I am from a sixth generation family living in Fairview. My kids are going to those very same schools right now. I care very deeply about rural Utah and I am very concerned about the divide I see growing between urban and rural America. Brainstorm's culture of learning, their culture of disruption, trying to find new and better ways to teach people how to do things is exactly what we need for kids across the state, especially in rural Utah. "
He spoke about the opportunities that limited him as a child while he watched his cousins along the Wasatch Front have great advantages.
"That is why I offered the challenge to them to find a school in rural Utah to change lives," he said. "I truly believe that collaboration is happening here. It will not only help these kids, it will help the companies that are involved that are doing these kinds of things."
He said that he intends to challenge more companies to do the same in other places in rural Utah as well.
Carbon School District Superintendent Lance Hatch spoke and talked about how "cool" everything that was going on that morning had been.
"In our school district we have one to one correspondence with computers," he said. "So we pride ourselves on using technology to help students learn. But very rarely do we get the opportunity to help our students to learn about this kind of technology. So this is a great partnership and opportunity. This is filling a hole in what we do. Our vision is that these students will eventually be able to have a deeper experience. For example with coding we hope to have a whole class on coding for them or a whole class on video production someday. Having an experience like this for students can make all the difference."
Brainstorm has also meant more to the school and the school to them than just a chance to expose kids to new ideas. Renee Banasky, a teacher at the school and one of the organizers of the fair says that they also really care about the students.
"Brainstorm came to us and asked if they could help us," she said. "I thought that was nice. But then at Christmas time they came to us and said 'What can we do?' Well they provided back packs full of food for kids that needed it before the break. They also provided them with gift cards so the kids could buy their family gifts. I saw kids leaving the school on the last day with these bright red bags, smiling so big because they knew they would be eating over the holidays. But this partnership isn't just about giving them something for the holidays, it is about teaching them to be proficient in the world and to make a living."