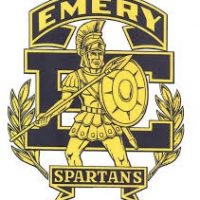 The Emery Spartans participated in their second swim meet of the week at the Emery County Aquatic Center Thursday afternoon, this time playing host to North Summit, Wasatch Academy, and Gunnison in Castle Dale.
The Lady Spartans claimed their second first place overall in as many meets this week by posting 462.5 points in the 11 total events. North Summit finished second with 322.5 points, easily topping third place Gunnison's total of 105. Wasatch Academy completed the field of four with 90 points.
North Summit earned the top team finish on the boy's side of the pool with 410 points, topping Emery's 393 point mark. Wasatch Academy logged a third place nod with 157 points, and Gunnison finished fourth with 90.
With only two meets remaining in the season before the Region Tournament on Jan. 25, the Spartans will return to the pool on Jan. 16.
Below are the complete individual results from Thursday afternoon:
Emery-Results-from-1-11-18