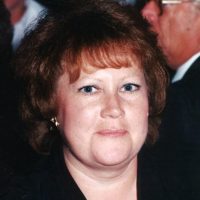 Raelyn Swasey, age 58, passed away unexpectedly February 4, 2018 in Ferron, Utah at her home. She was born April 17, 1959 in Price, Utah to Jerry and Margaret Sorensen Mangum. She grew up in Orem, Utah then moved to Indianola, Utah and attended North Sanpete High School.
She married Rodney Swasey on June 7, 1980 in Emery, Utah. Their marriage was later solemnized in the Manti Utah LDS Temple. They raised their family and resided in Ferron, Utah. Raelyn was a member of the LDS church and served in various callings. She was an excellent cook and made delicious english toffee. She enjoyed family get-togethers and reunions. She drove a school bus for the Emery County School District for several years. She was a volunteer during the 2002 winter olympics in Salt Lake City. Her car and home were always immaculate.
She is survived by her husband Rodney Swasey, daughter Jennifer (Shane) Hill, son Charlie Swasey, daughter Rachel Swasey, and 6 grandchildren.
She was preceded in death by her parents Jerry and Margaret Mangum, son Steven Swasey, sister Joann Jensen, brother Rodney Mangum, and nephew Kevin Peay.
Graveside services will be held Friday, February 9, 2018 at Emery Cemetery at 11:00 am.  Services are in the care of Fausett Mortuary of Emery County.  Family and friends may sign the online guestbook and share memories of Raelyn at www.fausettmortuary.com.