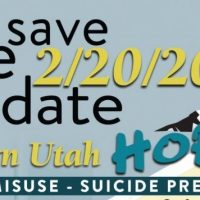 Several agencies in the local area are expanding their outreach to the community by hosting the inaugural Eastern Utah Hope Summit. This daylong conference will take place on Tuesday, February 20 at 7:00 am till 4:30 pm on the USU-Eastern Campus inside the Jennifer Leavitt Student Center. Guests will be able to enjoy breakfast, lunch and a chance to win door prizes.
During the conference, organizers hope to raise awareness about the opidemic and suicide issues affecting our area. "It's a very big issue for us here in Carbon County and Emery County, as well; you know we have the highest rate opioid prescription overdose deaths in the state. We have 51 percent of the state's burden for those deaths and over 50 percent for suicide deaths as well," stated Health Educator, Debbie Marvidikis.
The conference features presentations by several health professionals. "We have a lot of really amazing speakers that are going to come talk to us about the opioid epidemic and what we can do as a community, what are physicians are able to do and our pharmacists," said Marvidikis. The keynote speaker is Kevin Hines, who is a motivational speaker, wellness advocate, best selling author and documentary filmmaker; plus hear from life coach and motivational speaker, Will Ferguson, who will share his own personal story about addiction and recovery.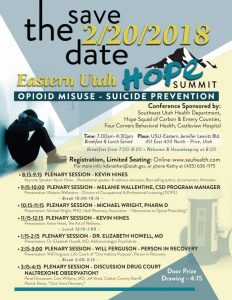 At the end of the summit guests will be able to join in on a panel discussion about opioid and suicide prevention with Dr. Cam Williams, MD, Carbon County Sheriff Jeff Wood and the founder of One Voice Recovery, Patrick Rezac.
Limited seating is available for the HOPE Summit with online registration currently open and available at www.seuhealth.com. Any questions about the event can be answered by calling (435) 636-1175.
Proud sponsors of the event are Southeast Utah Health Department, HOPE Squad of Carbon and Emery Counties, Four Corners Behavioral Health and Castleview Hospital.