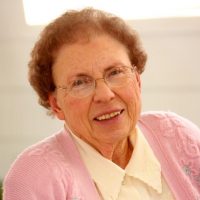 Alta Mae Brown Singleton, 88, passed away Saturday, February 10, 2018, in Ferron, Utah.  She was born September 13, 1929, to Guy Jay and Ethel Elizabeth May Brown in Lake Village, Arkansas. Growing up, she also lived in Missouri and Colorado.
Alta graduated from the University of Colorado with a bachelor's degree in accounting. She used these skills to be a school teacher for a year, a bookkeeper for several local businesses, and an engineering technician for the Soil Conservation Service and Johansen and Tuttle Engineering.
Alta met the love of her life, Samuel Morris Singleton, in Denver, Colorado, where he was stationed in the army during the Korean War. She served a mission to Argentina, then returned home and married Sam in the Salt Lake Temple. They lived in Ferron for the remainder of their lives.
Sam and Alta served two years at the Manti Temple, and she worked many years at the Family History Center.
Alta is survived by her three sons, Morris (Celya), Kyle (Kathy), and Myron (Janet), ten grandchildren, and eight great-grandchildren.
She was preceded in death by her husband, Sam, her parents, and her two brothers, Myron (Esther) and John Ralph.
Funeral services will be held on Saturday, February 17, at 11:00 am, at the Ferron Stake Center. Viewing will be Friday evening from 6:00 to 8:00 pm at the Ferron Stake Center, and Saturday prior to the funeral from 9:30 to 10:30 am.  Burial in the Ferron Cemetery entrusted to Fausett Mortuary of Emery County.  Family and friends may sign the guestbook and share memories of Alta at www.fausettmortuary.com.