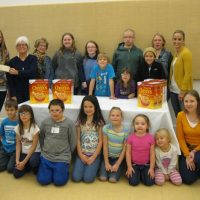 Once again, the youth of Ascension St Matthews have stepped forward to help local groups in their community assistance. Ascension St. Matthews P& L programs gathers a noisy offering from the entire congregation each week to help others.
This specific program assistance included packing weekend food packs for children in need in Carbon County and then making a sizable contribution to the program to purchase additional food for distribution.
Past projects over the last 2 years include:
*Heifier international $990.00
Milk producing animals to third world country
*St. Bonaventure School $900.00
To assist with water projects on the reservation
*Bee Project $1,200.00
Sustainable honey production for St Christopher's mission in Bluff
Power & Light is a youth group activity that meets on Wednesday evenings from 5:30 pm to 7:00 pm for children ages four years old to junior high. The group gets together to enjoy bible stories, movies, crafts and much more. Any children in the community who are interested in the youth group are more than welcome to come enjoy the fun activities each week.