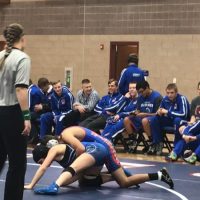 Seven Carbon High School wrestlers finish inside the top six in their respective weight divisions, leading to an eighth place finish at the State Championship meet Friday and Saturday at Utah Valley University in Orem.
Ending with 97.5 points, the Dinos finished 26.5 points behind 7th place South Sevier in the 16 team field. Juab easily claimed the overall team championship with 304 points. Delta finished in second with 224.5, followed by Morgan, Union and Emery.
Casey Shiner delivered the top individual performance for the Dinos, ending second in the 132-pound division. Bobby Blake, Bradley Judd, Connor Fausett and Triton Abeyta all ended fourth. Kaden Gibson finished fifth, and Bryce Judd scored a sixth place finish.
Below are the complete individual results for each Carbon High School wrestler. Stay tuned to Castle Country Radio for more on the Carbon wrestling team in the coming days.
| | | | |
| --- | --- | --- | --- |
| Weight | Name | Record | Place |
| 106 | Astacia Gomez | 0-2 | —- |
| 113 | Bryce Judd | 2-3 | 6th |
| 120 | Caleb Marshall | 0-2 | —- |
| 126 | Kaden Lee | 1-2 | —- |
| 126 | Kaden Gibson | 4-2 | 5th |
| 132 | Casey Shiner | 3-1 | 2nd |
| 132 | Bobby Blake | 4-2 | 4th |
| 138 | Caleb Sanderson | 1-2 | —- |
| 138 | Bradley Judd | 3-2 | 4th |
| 145 | Connor Fausett | 4-2 | 4th |
| 152 | Keityn Hunt | 1-2 | —- |
| 152 | Nathan Cowley | 0-2 | —- |
| 160 | Josiah Martinez | 1-2 | —- |
| 160 | Jacob Barlow | 1-2 | —- |
| 182 | Triton Abeyta | 4-2 | 4th |
| 285 | Blake Grundy | 0-2 | —- |