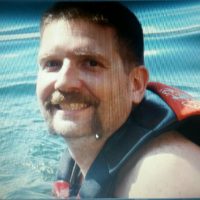 Chad Michael Keele, age 46, passed away in his home surrounded by his three best friends Arg, Pinky and Cloppers. Words cannot express what he meant to his children.
Chad was born October 3, 1971, in Price, Utah to Roy Van and Grace Spatafore Keele. He was a lifelong resident of Carbon County and graduate of Carbon High School Class of 1990. After graduating Chad had many jobs, but the one
he cherished most was being a father to Brooke and Dylan. He cherished every moment with his children, on the lake, coaching sports and taking them to events, everything from Lagoon to concerts. When they were together, there
was never a dull moment. Chad became a grandpa and his children seen a new cherished love expressed by their father, as he became a lovable grandpa to their children. Chad cherished and loved his children's partners with his
open heart, they were too his children.
Chad survived in this life by his children: Brooke (Ashley) Keele of Green Bay, Wisconsin, Dylan (Kyla) Keele of Price, Utah; grandchildren: Brayton, Kayden, Kylyn and Erabella; siblings: David Keele, Randy Keele, Shelli
Marvidakis and many nieces and nephews.
Chad is preceded in death by his mother Grace and baby boy Michael.
The love of a lifetime has been taken and he will live on in the hearts of his children and grandchildren and all he whom he has touched.
With heavy hearts a memorial service will be held in Chad's honor at Mitchell Funeral Home, Thursday, February 15, 2018 at 2:00 p.m. All are invited to celebrate the life of Chad surrounded by the people who mattered most to him. Arrangements entrusted to Mitchell Funeral Home where friends are always welcome daily and may share memories of Chad online at www.mitchellfuneralhome.net