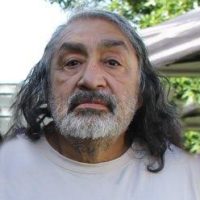 Martin Lee Martinez, age 71, passed away February 8, 2018 at his home in Helper.
He was born May 31, 1946 in Spring Canyon, Utah to Albert and Matilda Rojas Martinez.
Martin was a member of the Elk's Lodge. He retired from the Army National Guard after 23 years of service. Martin loved riding motorcycles.
Survived by his mother, Tillie Martinez, Helper; daughters, TyAnn (Forrest) Caul, Magna, NyCole (Brad) Shaw, Price, Mandy (Jared) Gallegos, Helper; grandchildren, Jordan Keller, Christopher Shaw, Miranda Shaw, Inez Johnson; sisters, Juanita Feichko, Miller Creek, Dee Ann Martinez, Washington, DC.
Preceded in death by his father, Albert Martinez.
Funeral service, Monday, February 12, 2018, 1:00 p.m., Mitchell Funeral Home. Family will receive friends Monday one hour prior to service. Interment, Mt. View Cemetery, Helper. Arrangements entrusted to Mitchell Funeral Home of Price where friends are always welcome daily and may share memories online at www.mitchellfuneralhome.net.
In lieu of flowers, please make a donation to a memorial account in memory of Martin at Mountain America Credit Union.