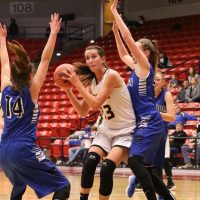 The Emery Lady Spartans advanced to the semifinals of the 3A State Championship Tournament with a 70-44 win over the Carbon Lady Dinos Thursday afternoon at Dixie State University in St. George.
Megan Jensen scored a game-high 23 points and grabbed six rebounds to lead Emery to their second straight trip to the semifinals. Kinlee toomer chipped in with 13, Kacelyn Toomer finished with 11 and Lainee Jensen scored ten in the win.
"I was proud of the girls because Carbon is a great team," said Emery coach Lynn Tuttle. "I told the girls tonight we had to score 70 points to win the game. The girls came out and took the ball to the hole and did well."
The two teams were locked in an entertaining game before Emery outscored Carbon 17-3 in the final quarter. Despite holding multiple double-digit leads throughout the contest, the Spartans had to fend off several Carbon runs in the first three quarters.
Trailing 40-26 at the end of the first half, Carbon outscored Emery 15-13 in the third quarter. Foul trouble plagued the Dinos as Emery took control over the final eight minutes to secure the win.
"We started in a press and it was effective at first," said Tuttle. "I was hoping we would get up and keep the lead because I wanted to save legs. But both teams came out strong and I thought it was good game."
Carbon senior Kelsey Sorenson scored a team best 18 points to go along with six rebounds before fouling out in the fourth quarter. Jordan Bianco connected on three shots from deep to score 11 points, and Jodi Noyes finished with six.
As a team Carbon committed 18 turnovers, 13 of which came in the first half. Despite taking much better care of the basketball in the final two quarters, the Dinos shot just 35-percent from the field, compared to Emery's 58-percent.
Thursday's win means Emery will meet the Grantsville Cowboys on Friday night for a chance to play for the State Championship on Saturday. Carbon will fall into the consolation bracket Friday morning against South Sevier.
Live coverage of Emery's Friday semifinal matchup will begin on KOAL 107.3 FM and 750 AM at 5:30 p.m.. The audio will also be available online at www.castlecountryradio.com.
**Photo courtesy of ETV10 News**