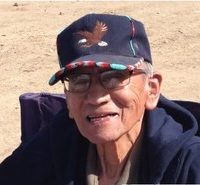 Manuel Palacios, age 84 passed away peacefully in his home surrounded by his family on March 6th 2018 in Sunnyside Utah. He was born on April 19th, 1933 in Sego Utah to Gumicendo and Maria Palacios. He was a member of Good Shepherd Parish and The Knights of Columbus.
He worked at Kaiser Steel Corp. for 36 years, then went on to be an inspector closing abandoned mines for 10 years.
He was an avid outdoorsman, gun enthusiast, and target shooter.
He loved spending time with his family and taking them fishing, camping, and hunting.
Dad enjoyed his grandchildren as they grew up over the years.
Taking long trips to Sego, Skyline drive, or putting hand and footprints of all his grandchildren in his front and back yard.
Dad taught many young men the finer points of reloading and up to his passing was still giving tips on reloading.
His room was his office and those that were part of his hobby knew that the pictures and his grandchildren's souvenirs were what made that room special.
Finally, dad was a man of faith.
He loved and cherished our mother, his children and grandchildren.
He knew our Lord and Savior and his Catholic faith was paramount in his life.
Daddy we will miss you. We love you.
He is survived by his children, Carmen Guzman, Taylorsville, Elizabeth Constan (Van), Denver,CO, Renae (Joe) Christman, Price, Juanita Daviner (Jim) Roseville, CA., Andrea Hall (Gary) Price, Utah, son, Gilbert (Tammy) Palacios Sunnyside UT., Robyn Palacios, Holladay UT., Ernie Valdez, Kearns UT.; grandchildren, Randy, Lydia, Steve, William, Frank Jr, Michelle, Kristine, Lawrence Jr, Anthony, Cassie Jo, Manuel D, Joey, Dustin, Sal, Brandy and Nicole.
Great Grandchildren: James, November, Harley, Ellie, Ethan G, Ethan T, Manuel G, Charlie, Dalton, Boston, Erza, Logan, Riley, and Melanie; great great grandson, Westton Guzman; brothers, Pete and Robert,
Helper, Utah; one sister, Pauline Sanchez.
Preceded in death by his wife Lydia; son, Thomas; daughter, Toni Porter; granddaughter, Jessica; parents, Gumercindo and Maria Palacios; brothers, Joe and Johnny Palacios; sisters, Ruby, Margaret and Emma; son-in-law, Frank Guzman.
The family would like to thank the East Carbon Clinic for their support in dads care.
Shad Tillison, Doug Perkins, Stacy and Jessica and Lorraine Naylor. A special thanks to Abe Aragon, Aydaliz Sanchez Palacios and Lawrence Jr. Banks.
Funeral Mass, Monday, March 12, 2018, 10:00 a.m., Good Shepherd Catholic Church. Vigil service, Sunday evening, 7:00 p.m., Good Shepherd Catholic Church. Family will receive friends Sunday and Monday one hour prior to service at the church. Committal, Cliffview Cemetery, Price. Arrangements entrusted to Mitchell Funeral Home of Price where friends are welcome daily and may share memories online at www.mitchellfuneralhome.net