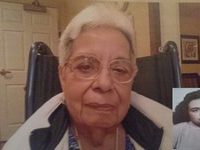 Our beloved sister, aunt, and long-time resident of Helper, Utah, Ramona Salas, passed away March 5, 2018, in Albuquerque, New Mexico, at age 91.
Ramona was born August 31, 1926, in Chandler, Colorado, to Jose and Dolores (Perez) Salas. She spent her early years in Colorado before moving to Standardville, Utah, and, later, Helper. In recent years, she lived in Price before moving to Albuquerque.
Ramona was a homemaker–she spent her life caring for her parents, brothers, and extended family. She had many friends, including special longtime neighbors, the Diamanti family: Chris, Marge, Kristen and Karen.
Ramona had many interests. Along with her mother, she made the best Mexican food anywhere, contributing her cooking to charity events at St. Anthony Catholic Church in Helper, where she was a member and treasurer of the Guadalupana Society. She also taught cooking and contributed to multiple cookbooks, including the Heritage Cookbook from the College of Eastern Utah. For a time, Ramona served as a bilingual host on a local radio show for Spanish speakers. She made beautiful embroidery, crochet, and drawn-thread pieces; and enjoyed watching soap operas and The Lawrence Welk Show on TV.
We will miss the stories Ramona told as the family historian. "Aunt Ramona" especially delighted in watching the antics of her nieces and nephews and retelling stories over the years in great detail, always punctuated with a laugh. We all loved accompanying her when she drove to the "pink store" in Helper to go shopping. Her nieces especially have fond memories of her teaching them the Mexican way to cross-stitch where finished work is judged by the back, rather than the front. Everyone remembers her perfectly round and delicious flour tortillas, kept in a Hall's Red Poppy dish that visitors never found empty.
Ramona is survived by her brother Alfonso and Lou (Gurule) Salas of Albuquerque, 10 nieces and nephews and their families.
She was preceded in death by her parents; sister, Nicandra; brothers, Anacleto, Eulogio (Joe), Victor, and Julian; and sisters-in-law, Cecilia and Maria.
Funeral Mass, Friday, March 9, 2018, 10:00 a.m., at St. Anthony Catholic Church, 5 S. Main Street, Helper. Vigil service Thursday evening, 7:00 pm at the church in Helper. Family will receive friends at the church Thursday and Friday one hour prior to services. Committal service, Mt. View Cemetery, Helper. Remembrances may be shared online at www.mitchellfuneralhome.net Rest in peace, Ramona. We love you; we miss you.