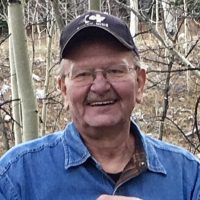 Mark Ray Nelson, age 62, passed away unexpectedly on March 9, 2018 while traveling with his sweetheart. He was born January 19, 1956 to J. Rulon Nelson and Ruth McConkie Nelson.
As the eleventh of twelve children growing up on a dairy farm, Mark learned the value of hard work at a very early age. He loved the farm and his dog Blue; they went everywhere together. He couldn't stand to see someone working and not jump in to help. He had a heart as big as all outdoors and a work ethic to match. He carried that love of work ethic, and his acumen of all things mechanical, with him throughout his entire life. In addition to his love for farming, he worked in various positions in the coal mines; most recently as an electrician.
Mark raised his 4 children, with his first wife Bonnie, with an appreciation for wildlife, the outdoors, camping, fishing, four-wheeling all the while teaching them to "leave it better than you found it".
He reconnected & married his high school sweetheart after 20+ years. He and Ruth were able to spend 4 of their 19 years together experiencing Alaska. There he gained a genuine love for Alaskan history, the natives and the unique ways in which they celebrated life. What was reinforced to Mark through the Alaskan native tradition was their ingenuity and the principle of richness beyond possessions. Those who were close to Mark know that he truly lived by these principles.
He is survived by his wife Ruth Fugate McCoard Nelson. Daughters Crystal McCray (Charlie) Hagar, Heidi (Camron) Maestas & Rachel Nelson.  Stepsons Michael (Amber) McCoard, Casey (Jamie) McCoard, and Thomas (Tami) McCoard along with 9 grandchildren. Siblings Sylvia (Gerald) Haycock, Beth (Leon) Bogedahl, Anne (Michael) Thompson and James R. (Lynda) Nelson. Mark is preceded in death by his son Joshua Nelson, siblings; Conrad, Corinne, Monte, Lynn, Linda, Clyde, Keith and parents.
A viewing will be held Thursday, March 15, 2018 from 6:00 – 8:00 p.m. at Fausett Mortuary in Castle Dale, Utah. Funeral services will be held on Friday, March 16, 2018 at 10:00 a.m. at the Ferron Stake Center with a viewing from 9:00 – 9:45 a.m. prior to services. Interment will be in the Ferron City Cemetery. Friends and family may sign the online guestbook and share a memory of Mark at www.heritagefuneralhomeutah.com.