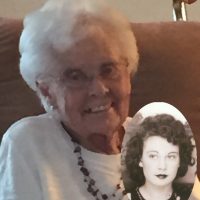 Our beloved mother, grandmother, sister, aunt, cousin and friend, Thora K. Pickup ONeil, age 91, returned home on Saturday March 10, 2018, surrounded by her family.
She was the fifth of seven children born to Alton and Ada Weight Pickup on September 6, 1926 in Bennett, Uinta County, Utah. She was raised in the Uinta Basin, living in various towns, and graduated from Altera High School.
She married Richard John (Dick) ONeil on January 22, 1945. Their marriage was solemnized and their children were sealed to them on May 26, 1962 in the Manti Temple. He preceded her in death on July 21, 1965.
Mom was a lifelong, faithful member of the Church of Jesus Christ of Latter-day Saints and held many positions in Relief Society, Young Women and Primary. She lived her religion to the fullest, all her life, right up to the end and was example of righteousness and faith to her family and all those with whom she came in contact. She lived with quiet grace and dignity.
A truly gentile lady. But she was also fiercely loyal to her family and loved us all unconditionally. She was the glue that held us together at Dads passing and all the years since. She was as tough as nails, enduring over 40 years of pain from severe crippling arthritis, and still producing beautiful crocheted items that she enjoyed giving to others. She kept a beautiful, clean and organized yard and home where all were welcome. She sacrificed and shared, loved and taughtand made the best rolls ever!
Survived by sons Michael (Linda), Lynn (Cindy) ONeil, daughter Kathy (Phillip) Medley, 19 grandchildren, 39 great grandchildren, 4 great-great-grandchildren and sister, Leah Chandler.
Preceded in death by her husband, parents and parents in law, son (Donald) Lloyd, grandson Jade Lynn ONeil and 5 brothers, LaRue, Wayne, Grant, George and Quint.
The family would like to thank all who have offered condolences, prayers and support during this difficult time. We would also like to thank those at Pinnacle Nursing & Rehabilitation Center who cared for Mom.
Funeral services will be held Wednesday March 14, 2018 at 12:00 Noon at the Wellington First LDS Church, (red brick building) 50 North 100 East, Wellington, Utah. Family will receive friends at Mitchell Funeral Home Tuesday evening from 5:00 to 7:00 pm and at the church Wednesday one hour prior to service. Interment, Price City Cemetery. Arrangements entrusted to Mitchell Funeral Home where friends are always welcome daily and may share
memories of Thora online at www.mitchellfuneralhome