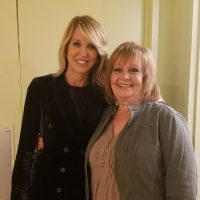 The cold case story of Loretta Jones will be highlighted on March 18 on the Investigation Discovery channel's On the Case with Paula Zahn. The program will explain how the victim's daughter, Heidi Jones-Asay pushed detectives to get answers and solve the 1970 murder of her mother.
Asay was only four-years-old when she awoke to find her mother dead in their family home. This was the most heartbreaking loss any child could every face, let alone under these horrendous circumstances. However, she was very lucky to have grandparents who adopted her and did their very best to give her an affectionate upbringing considering what she had been through. As she grew to be an adult, the idea of her mom's killer still at large, left many unanswered questions that were very bothersome to her.
It was a chance meeting that arose at a local community gathering where unbeknownst to her would change her life. "Through many years, the case went cold and then in 2009, I ran into Sergeant Brewer at the Helper Arts Festival and I told him that I had a story I wanted to talk to him about; that my mom had been murdered and it had never been solved," said Asay. The officer was intrigued and requested she contact his office the following week. It was without hesitation that she immediately gathered any and all information in her possession to present to the detectives. She hoped that her mother's cold case, which happened to be the oldest in the history of Utah, could finally receive some attention and possibly be solved.
Sergeant Brewer, along with Detective Wally Hendricks worked diligently on the cold case that spanned nearly four decades. "He worked seven years on my mom's case and in 2016 we were able to get a confession and a conviction for the man that murdered my mom, his name is Tom Egley," stated Asay. On November 22, Thomas Edward Egley, plead guilty to second-degree murder, in exchange, the rape charges were dismissed and he was sentenced to ten years to life for the brutal crime. The backing from the State Attorney General 's office was key in getting a swift conviction made in Carbon County. It was what family and friends needed to receive closure and get justice.
It was October of last year when On the Case with Paula Zahn notified Asay that they were considering sharing her mom's story on a national level. "I was ecstatic about it and this was a great opportunity for all the other cold cases out there because my case didn't have any physical evidence," she said. Shortly after her initial contact with the show, they arrived to start filming in both Carbon and Emery counties. They compiled and filmed interviews with Asay, family members, close friends, as well as, the detectives who worked the case, along with the county prosecutors to tell the story.
"I feel that I was taught to believe in the impossible and to never give up hope. I know there are many cold cases out there and I just want everybody to be able that's experiencing it, not to give up any hope because as long as you have hope there is a possibility," stated Asay. Throughout the entire process, she felt the presence of her mother in so many ways; she knows her mom loved her very much and did everything possible to ensure that she was not harmed on that horrible night in 1970.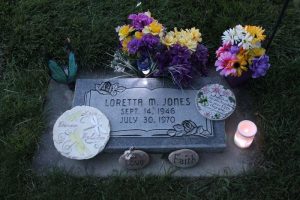 Asay, along with Detective Brewer are both working with the local publisher, Richard Shaw in writing a book about the case. She hopes to have it finished by this year's Helper Arts Festival, which she refers to as her lucky charm, as it had brought her good luck in the past. Once the book has been completed, there is a strong possibility that the story will be played out in a movie; those in the film industry have reached out to Asay, but her main focus at this time is to finish the book.
The Investigation Discovery channel's On the Case with Paula Zahn will air Loretta Jones' cold case story on Sunday, March 18 at 8:00 pm. The channel number will depend on your cable provider.
PHOTOS COURTESY OF HEIDI JONES-ASAY